News and Events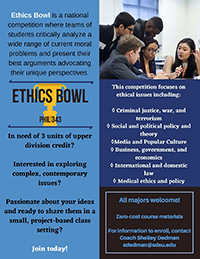 Join our Ethics Bowl Team!
Ethics Bowl is a national competition where teams of students critically analyze a wide range of moral problems and present their best arguments advocating their unique perspectives. Topics include: Business, Medicine, Technology,Media, Social Justice, Animal Rights, The Environment, Art, Religion, Politics, Popular Culture and MORE.
Enroll in Philosophy 343 this fall and be a part of our team. Open to all majors at all levels.
Are you...
In need of 3 units of upper division credit?
Interested in exploring complex, contemporary issues?
Passionate about your ideas and ready to share them in a small, interactive class setting?
For more information contact Coach Shelley Dedman, M.A. at [email protected].


Commencement 2021
The 2021 SDSU Philosophy Commencement Recognition Ceremony was held virtually on Friday, May 14.
Congratulations to all of our graduates!
Outstanding Graduating Senior: Yazarely Claudia Gonzalez
Most Influential Faculty: Dr. Robert Francescotti
Watch the video from the event.


"Where No One is Prey: Towards Visions of Justice for All"
Kristie Dotson, Michigan State University Philosophy Department
February 28, 2019
Abstract: In this talk, I offer a discussion of racial justice in the 21st century from a Black feminist perspective. Specifically, I admit that I still have "visions of justice for all." Ultimately, I claim that we are not so constitutionally dissimilar, our ability to impact each other so small, nor are our populations so homogeneous as to imagine that racial justice in the 21st century is not just another way of saying we need justice for all. Racial justice may well demand the goal of working for a place where no one is prey.
About Dr. Dotson: Dr. Kristie Dotson is a Professor of Philosophy at Michigan State University. Dr. Dotson is currently interim chair of the African American and African Studies department at Michigan State University. Dr. Dotson has written extensively on Epistemology and Feminist Philosophy with emphasis on Women of Color Feminism and Black Feminism.
This event is sponsored by Phi Sigma Tau, the SDSU Philosophy Department, and the SDSU Student Success Fee.


Screening and Panel Discussion of River of Gold
January 29, 2019
Panelists: Sarah duPont (Founder Amazon Aid, Producer and Co-Director of "River of Gold"), Christina T. Miller (Co-Founder of Ethical Metalsmiths, Sustainability Consultant), Alexandra Hart (President, Ethical Metalsmiths), and Mark Wheeler (Director, SDSU Institute of Ethics and Public Affairs, Chair SDSU Philosophy)
"River of Gold" is a documentary film about illegal and destructive gold mining in the Peruvian Amazon. The film was created by Amazon Aid Foundation.
Screening is sponsored by The SDSU Institute for Ethics and Public Affairs, Ethical Metalsmiths, and the Women's Jewelry Association, San Diego Chapter.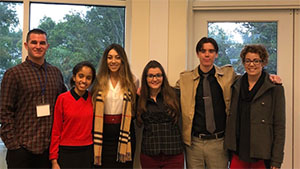 Regional Ethics Bowl Competition
December 6, 2018
This past weekend our Ethics Bowl team competed in the Regional Ethics Bowl competition at Cabrillo College in Santa Cruz on December 2. They presented arguments related to morally problematic issues informed by current events. The team came in 10th of 24.
The team is comprised of Professor Shelley Dedman (coach, SDSU alum and current Philosophy lecturer), Sean Tracy (assistant coach, current MA student in Philosophy), and team members Emily Reeves, Akacia Brillon, Pixie Cepura, and Jeffrey Tuttle.
The Ethics Bowl program has been in place for several years, but this is Professor Dedman's first time coaching the team. It provides 3 units to all participating students and is open to all majors at all levels.

Film Screening and Q&A: "The Most Dangerous Man in America: Daniel Ellsberg and The Pentagon Papers"
September 11, 2018
Did you love "The Post" with Tom Hanks and Meryl Streep? Want to learn more about Daniel Ellsberg and the Pentagon Papers before he visits SDSU next month, and connect it to what is happening today? Come join us!
Daniel Ellsberg is coming to SDSU on October 2. Come learn about him and his role in history. Philosophy Professor Mark Wheeler will lead a Q & A session with John Martin, who covered Ellsberg's pre-trial hearings in 1973 and was an ABC News National Correspondent from 1975-2002, and Professor Pierre Asselin, Dwight E. Stanford Chair of U.S. Foreign Relations, after the screening of the Academy Award nominated documentary "The Most Dangerous Man in America: Daniel Ellsberg and the Pentagon Papers."
Presented by the Institute for Ethics & Public Affairs, the Departments of History, Philosophy, and Political Science, ISCOR, and the Dwight E. Stanford Chair in U.S. Foreign Relations.

Daniel Ellsberg: The Pentagon Papers, Whistleblowing, and Doomsday
Tuesday, October 2@7 PM, Montezuma Hall
Ellsberg is the author of three books: The Doomsday Machine: Confessions of a Nuclear War Planner (2017), Secrets: A Memoir of Vietnam and the Pentagon Papers (2002,) Risk, Ambiguity and Decision (2001,) and Papers on the War (1971). In December 2006 he was awarded the 2006 Right Livelihood Award, in Stockholm, Sweden, ". . for putting peace and truth first, at considerable personal risk, and dedicating his life to inspiring others to follow his example." Read his full bio.
Co-sponsored with the College of Arts & Letters, the Departments of History and Political Science, Institute for Ethics and Public Affairs, and Dwight E. Stanford Chair in American Foreign Relations.


A Conversation with Chelsea Manning
April 9, 2018
As an intelligence analyst for the U.S. Department of Defense, Chelsea Manning disclosed classified documents to WikiLeaks that revealed human rights abuses and corruption connected to the U.S. wars in Iraq and Afghanistan. She was convicted and sentenced to 35 years in a military prison, but released in 2017 after President Obama commuted her sentence. Now an advocate for government transparency, Manning will speak about topics including national security and democracy, artificial intelligence (AI) and resistance in the age of AI; activism and protest; and the intersection of technology and people's lives.
Moderator: Prof. Mark Wheeler
Free and Open to the Public
Sponsored by College of Arts and Letters, Love Library, Academic Affairs, Provost's Office, Institute of Ethics and Public Affairs, Political Science Department, MALAS, History Department, the Pride Center


Philosophy and Representation Conference
April 7, 2018
Join us for a student Philosophy conference: Philosophy and Representation. The conference aims to bring several dynamic learning communities together for an enriching meeting of the minds, stimulating research, and an opportunity to participate in a connection along philosophical lines in our interdisciplinary inquiries.

Fall Colloquium Series in Philosophy: No Race, No Ethics: How We Became Way Too Cool
April 2, 2018
Dr. Shannon Winnubst
Ohio State University
As chants of resistance fill US streets more and more, how might we claim an ethical ground amidst the intensely politicized discourses of contemporary social problems? This lecture will explore this quandary through the historical transformations in our relationships to social difference (categories such as race, gender, sexuality, dis/ability, and so on). As we find ourselves amidst a cultural erasure of the histories and meanings attached to "race," we may also find ourselves without any tether back to an ethical stance: the lecture will conclude with speculations on how to reactivate race in an effort to reclaim ethics.
Shannon Winnubst is Professor and Chair of the Department of Women's, Gender, and Sexuality Studies at Ohio State University and co-editor of PhiloSOPHIA: A Journal of Continental Feminism (SUNY Press). She specializes in 20th century French philosophy as well feminist, race, and queer theory. She is the author of Way Too Cool: Selling Out Race & Ethics (Columbia UP: 2015) and Queering Freedom (Indiana UP: 2006).
Sponsored by the Institute for Ethics and Public Affairs and the Department of Philosophy


Imagining Europe

The College of Arts and Letters and the Institute for Ethics and Public Affairs present:
A talk by historian Timothy Snyder, Professor of History at Yale University, about his 2017 book On Tyranny: Twenty Lessons from the Twentieth Century
March 19, 2018
Professor Snyder is an internationally renowned historian whose scholarship focuses on Europe and whose forthcoming book is The Road to Unfreedom: Russia, Europe, America. Among his many books are the acclaimed Bloodlands: Europe between Hitler and Stalin (2010) and Black Earth: The Holocaust as History and Warning (2015). Translated into 33 languages, Bloodlands has won twelve awards, including a Literature Award from the American Academy of Arts and Letters, and the Hannah Arendt Prize in Political Thought. The widely translated Black Earth has also received multiple honors, including an award from the Dutch Auschwitz Committee. Professor Snyder's most recent publication, On Tyranny: Twenty Lessons from the Twentieth Century (2017), offers a series of parables, at once chilling and inspiring, about the dangers facing countries across the globe where democratic ideals are imperiled.
This event is free and open to the public!
Professor Snyder's lecture is part of this year's Common Experience program and has been sponsored by the College of Arts and Letters and the SDSU Institute for Ethics and Public Affairs. The organizers of Imagining Europe are also grateful for the support of European Studies, German Studies, Jewish Studies, and the Master of Arts in Liberal Arts and Sciences; and for the help of the SDSU Press, the Department of English and Comparative Literature, the Department of History, and the Department of Political Science. Lecture arranged courtesy of Adventures by the Book.